Lil Mermaid
A party under the sea, who would like to come? It is a wonderful place especially when you will be swimming and dancing with the Little Mermaid and her best friends. Fun games with fishes, dolphins and even dangerous sharks await you! Blend in with the colourful surroundings as we create the underwater beauty in our party hall using light effects, backdrops, projections and props. The party is suddenly interrupted by the sea witch who wants to take our princesses' voice away, but with the help of kid's and other sea creatures, the sea witch is defied and the party continues with more singing and dancing!
Lil Mermaid Greeting
Lil Mermaid Party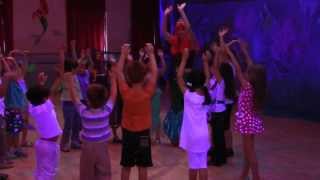 Party Details
Read Reviews
Write Your Review
For parties at North York and Richmond Hill locations
Princess will greet the birthday girl, her family and friends when they arrive to the Fairyland Theatre party hall. She will take the birthday girl to the dressing room to help her pick a beautiful Princess gown and a tiara. If you have a dress up package, all kids will be welcomed to the dressing room as well. Following dress up all kids will be invited to get their face painting done. Face painting is for about 15 to 20 minutes while all kids gather for the party. About 15 to 20 minutes into the party, the entertainment program will begin. All parents are welcome to stay and watch. The entertainment program is about 40 to 45 minutes. Our entertainment program is filled with many themed games and activities that will played along with the story. To tell the wonderful fairy tale we use theme related props, light effect, music and video projections. After the entertainment program, photo opportunity with Princess will be available. After pictures, eating time will begin. Eating time will start with pizza and will be for approximately 20 minutes. After pizza, a beautifully decorated cake is brought. Princess will sing the "Happy Birthday" song together with the guests. If there is time left after the kids have finished eating and before it is time to wrap up, the kids are welcome to have a mini dance party or play in the play area decorated as a princess castle (North York location only). Closer to end of the party Princess will give each girl a Princess Certificate and each boy a Knight Certificate along with a loot bag and a good bye hug.

For parties at Your Location
Princess will arrive at your party and greet the birthday girl and her friends. She will take a moment to remind everyone about the special day and the reason we have all gathered to celebrate. Princess will begin by telling kids about how she became a princess. Along the story she will play many themed games and activities using themed props and music to help her tell the kids about her favourite fairy tale. The entertainment program is about 45 minutes in length. After the entertainment program kids will have the opportunity to take group or/and individual pictures with the princess (depending on amount of kids and time left). Following the pictures, Princess will do face painting for all the kids. Before she will leave she will give each girl a Princess Certificate and each boy a Knight Certificate along with a good bye hug.
[WPCR_SHOW POSTID="259″ NUM="3″ SNIPPET="" MORE="" HIDECUSTOM="0″ HIDERESPONSE="0″]
[WPCR_FORM]