Wouldn't it be great to explore the night sky on a bat car, hang upside down with bats and battle evil villains along with Bat Hero. Boys and girls, be prepared to go through intensive training where you will be able to demonstrate your abilities to be strong and brave just like Bat Hero! After going through superhero training, kids will be ready to face the Joker who comes to ruin the party. Using their newly learned and enhanced skills kids will help Bat Hero defeat the villain and continue the celebration.
Bat Hero Greeting
Bat Hero Party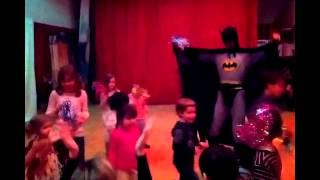 Party Details
Read Reviews
Write Your Review
For parties at North York and Richmond Hill locations
The birthday child and family will be greeted upon their arrival to the Fairyland Theatre and welcomed to enter the party hall. The birthday child will be taken to the dressing room where they can dress up as their favourite Superhero. If you choose to have a dress up party your guests will be welcomed to the dressing room to choose their costume as well. Following dress up all kids will be invited to get their face painting. Face painting is for about 15 to 20 minutes while all kids gather for the party. About 15 to 20 minutes into the party, the entertainment program will begin. All parents are welcome to stay and watch. The entertainment program is about 40 to 45 minutes in length. At the start of the entertainment program, the Superhero himself will make a grand entrance. He will greet the kids and wish our birthday child a very happy birthday. The entertainment program is filled with many themed games and activities, which will train kids to be just like our Superhero. The program will also be accompanied with theme related props, light effects(North York location only), music and video projections(North York location only). After the entertainment program, photo opportunity with the Superhero will be available. Following the photos, eating time will begin. Eating time will start with pizza and will be approximately 20 minutes in length. After pizza, a beautifully decorated cake will be brought out and a "Happy Birthday" song will be sung together with the guests. If there is time left after the kids have finished eating and before it is time to wrap up, kids will be welcomed to have a mini dance party or play in the play area decorated in Superhero theme (North York location only). Closer to end of the party each child will receive a Superhero Certificate along with a good bye hug.

For parties at Your Location
Superhero and his helper will arrive to your party and greet the birthday child and his friends. They will take a moment to remind everyone about the special day and the reason we have all gathered to celebrate. Superhero will tell kids about what it is like to be a real Superhero and take them through superhero training to enhance their abilities and skills. Kids will also participate in many fun games accompanied with theme related music and props. The entertainment program is about 45 minutes in length. After the entertainment program kids will have the opportunity to take pictures with the Superhero and get their face painting. At the end of the party, Superhero will give each child a Superhero Certificate and a good bye hug.
[WPCR_SHOW POSTID="749″ NUM="3″ SNIPPET="" MORE="" HIDECUSTOM="0″ HIDERESPONSE="0″]
[WPCR_FORM]